Full Day Tour from the Hunter Valley: Cessnock, Central Pokolbin & Lovedale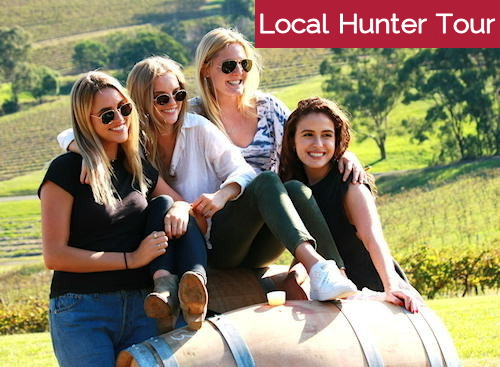 Duration: 6 Hours
Product code: HWT1
Book in 4 quick & easy steps:

1. Check the calendar for your date and enter the number of seats required.
2. Confirm your preferred tour date.
3. Select a lunch option; either purchase your own lunch or add a cafe lunch.
4. Complete the on-line booking form with all your details including credit card information.
Booking confirmation:
You will receive an instant automatic acknowledgement of your tour booking with a "Pending Confirmation" email receipt. You will then receive a second email confirming your tour with an "Order Confirmation" email of your order / booking within 24-28 hours when we process your booking.
Note:
If you use Gmail, Hotmail or Yahoo email accounts your booking confirmation email may go to your Junk / Spam folder. Please check these folders after making the booking.
Payment:
Payment is collected on the tour day by the driver / guide. You can choose to pay by cash, eftpos or credit card (VISA, MasterCard only) on the day. Your credit card details are required to secure your reservation and to guarantee your booking however we do not process payment in advance, you pay on the day.
CANCELLATION POLICY FOR DAY TOUR:
(Note: a different cancellation policy applies for private charter group tours)
1. Within 24 hours of tour date - 100% cancellation fee.
2. Within 48 hours of tour date - 50% cancellation fee.
3. A "no show" on the day of the tour is considered a late cancellation. A cancellation fee of 100% will apply.
4. Small groups i.e. 5 or more people, and private tours is strictly 7 days cancellation notice.
5. Cancellations or changes to numbers must be received in writing / email to our office.

SMALL GROUPS (5 OR MORE) BOOKING A DAY TOUR & PRIVATE TOURS:

Note: for a person booking a group of people on a wine tour, you must advise us of changes to your number of people going on the tour as the above conditions will apply. This includes "no-shows" on the day. We want to give you maximum flexibility but retain the right to sell any unsold seats at least one-two days prior to the tour. The cancellation policy for a group of 5 or more people, and private tours, is strictly 7 days cancellation notice.